The land that is now the City of Fairview Park was first surveyed in the late 1700's by General Moses Cleveland and his party of 49 others, agents for the Connecticut Land Company. They divided the land into ranges. The ranges were then numbered into townships. Township No. 7, Range 14 included the recognizable names of Fairview Park, Rocky River, West Park, Parkview, and most of Lakewood. The township was purchased in 1807 for $26.87.
In 1819, the 18 families who lived in Township No. 7 petitioned to have a name given to the place they lived. On February 24, 1819, their petition was granted and Rockport was born; appropriately named for the high, rocky embankments along the lakefront and along the sides of the Rocky River.
Despite being densely wooded with patches of quicksand and inhabited by a variety of creatures including bears, wolves, rattlesnakes, and the less ferocious deer and turkey, Rockport continued to grow, attracting pioneer families looking for a better life. Some of the early settlers in the area include the Anthonys, Bassetts, Eatons, Jordans, Masticks, Millards, and Spencers.
Rockport were considered "country" by the folks living in Cleveland. In  the early 1900's, truck-farming was a way of life. More often than not, produce grown and poultry raised in Rockport were taken to the West Side Market for sale. Hence, the name of truck farming – trucking your harvest to market.
Village of Fairview
Individuality appeared to be a popular movement in 1910. A petition was once again sent to rename this area. Those living in the Fairview/Parkview area wanted to break away from Rockport and form their own community. On April 6, 1910, Goldwood Township was established. Within the year, 75 families petitioned to launch a new village. On September 10, 1910, Fairview Village received its official charter. The advent of Fairview Village divided Goldwood Township. The section along Center Ridge Road was absorbed into Rocky River. The southern section later incorporated as Parkview Village.
On August 7, 1913, the Fairview Village Council authorized the purchase of a Town Hall site for the sum of $700. On October 2, 1913, the Village purchased $499 worth of lumber and hired laborers to erect a Town Hall. This structure was used until late 1967 when a Municipal Center was constructed on the current site of City Hall.
In 1924, the Village purchased its first fire engine. This equipment was kept in a frame garage to the rear of the Town Hall until a fire station was constructed.
The Path to Fairview Park
In 1948, Fairview Village residents were urged by Mayor Bohlken to write the federal government for a post office. They found out that the village name needed to be changed because a Fairview, Ohio already existed. To comply with postal regulations, voters chose to rename Fairview Village as the Village of Fairview Park, so named for the fair view over the Metroparks. The first post office opened in November, 1949.
The Village of Fairview Park officially became the City of Fairview Park on September 5, 1951.
In the mid-1950s it became evident that home rule, which allowed for greater flexibility, was desirable and in November 1957, the voters elected a commission to frame a charter. The Charter of the City of Fairview Park was adopted effective January 1, 1959. The Charter called for a Mayor-Council form of government, which places responsibility for governmental policy with the City Council and administration on the Mayor.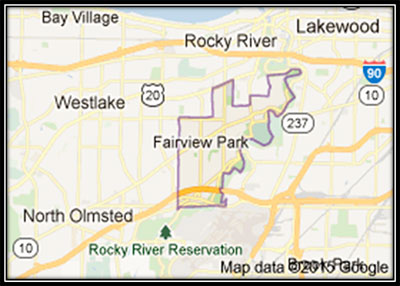 Area: 4.5 Square miles in Cuyahoga County.
Population in 2012: 16,612
Population change since 2000: -5.5%
Population density: 3,538 people per square mile
Location: 10 miles southwest of Public square, Cleveland
Latitude: 41.44 N, Longitude: 81.86 W
Transportation: Cleveland Regional Transit Authority (RTA), 25 min to Public Square, Cleveland; North Olmsted Bus Line, 45 min to Public Square, Cleveland.
Nearby Access Routes: Rt. 20; I-480; I-71; SR 10 & 17.
Education: Fairview Park City School District
Education Information:  Fairview Park Board of Education, 21620 Mastick Rd, Fairview Park, Oh 44126. (440) 331-5500.
General Characteristics: A variety of homes ranging from smaller Cape Cods and colonials to luxurious homes located on spacious valley lots.  Less than 5% of the homes are under 10 years of age.  Few condominiums and an adequate supply of apartments.
Recreation:  2 parks operated by the city; 1 public pool; tennis courts; 3 public golf courses; fishing; summer recreation program for children; soccer.
For City Information:
Mayor Patrick J Cooney: 20777 Lorain Road, Fairview Park, Ohio 44126, 440-356-4411
City Hall: Main Phone: (440) 333-2200
Post Office: 22350 Brookpark Rd, Fairview Park, OH 44126, (440) 734-2166                                                                      
Enjoy your new Neighborhood!
Fairview Park City Schools
Board of Education
21620 Mastick Rd #A
Fairview Park, OH 44126
440-331-5500
1.75 mi (3 min) Driving
Fairview Park Early Education
(Preschool-Kindergarten, Day Care)
21620 Mastick Rd #B, Fairview Park, OH 44126
(440) 331-5500
1.75 mi (3 min) driving


Gilles-Sweet Elementary School
Grades 1-6
4320 W. 220th Street, Fairview Park, Oh 44126
(440) 356-3525
040 mi (55 sec)driving


Lewis F. Mayer Middle School
(Grades 7 & 8)
21200 Campus Drive, Fairview Park, OH 44126
(440) 356-3510
1 mi (2 min) driving


Fairview High School
Grades 9-12
4507 W. 213th Street
Fairview Park, OH 44126
(440) 356-3505
.88 mi (2 min.) driving

Banks
First Federal Savings & Loan
22380 Lorain Rd
Fairview Park, OH 44126
(440) 716-9708


Keybank
4425 W. 220th Street
Fairview Park, OH 44126
(440) 734-0200


Charter One Bank
22591 Lorain Rd
Fairview Park, OH 44126
(440) 734-0800


Huntington Bank
21593 Lorain Road
Fairview Park, OH 44126
(216) 515-0012
Chase
22260 Center Ridge Rd
Rocky River, OH 44116
(440) 333-4050


Fifth Third Bank
20220 Center Ridge Road
Rocky River, OH 44126
(440) 331-6800
Hospitals
Fairview General Hospital
18101 Lorain Rd
Cleveland, OH 44111
(216) 476-7000


Lakewood Hospital
14519 Detroit Avenue
Lakewood, Ohio 44107
(440) 521-4200


St. John/Westshore
29000 Center Ridge Rd
Westlake, OH 44145
(440) 835-8000


Southwest General
18697 E. Bagley Road
Middleburg Hts., OH 44130
(440) 826-8000
Cleveland Clinic
9500 Euclid Avenue
Cleveland, OH 44106
(216) 444-2000


MetroHealth Medical Center
2500 MetroHealth Drive
Cleveland, OH 44109
(216) 398-6000
University Hospitals of Cleveland
11100 Euclid Avenue
Cleveland, OH 44106
(216) 844-1000
 
Shopping Malls
Westgate Mall
West 210th & Center Ridge Rd
Rocky River, OH 44116


Rockport
Wooster & Center Ridge Road
Rocky River, OH 44116
Great Northern Mall
Great Northern Blvd. & Brookpark Rd.
North Olmsted, OH 44070


Fairview Centre
West 215th & Lorain Road
Fairview, OH 44126


Grocery Stores/Supermarkets
Giant Eagle
21593 Lorain Rd.
Fairview Park, OH 44126
(440) 356-3666

Heinen's Supermarket
19219 Detroit Road
Rocky River, OH 44116
(440) 331-3830


Marc's Deep Discount Store
21660 Center Ridge Rd.
Rocky River, OH 44116
(440) 356-6240

Giant Eagle
22160 Center ridge Road
Rocky River, OH 44116
(440) 333-7610
Earth Fare
3450 Westgate
Fairview Park, OH 44126
(440) 356-2262

Save-A-Lot
23100 Lorain Road
Fairview Park, OH 44126
(440) 716-0927
Aldi's
21329 Center Ridge
Rocky River, OH 44116
(440) 716-0927
Libraries

Fairview Park
4449 W. 213th Street
Fairview Park, OH 44126
(440) 333-4700

Rocky River
1600 Hampton Avenue
Rocky River, OH 44116
(440) 333-7610
Senior Center
Fairview Park Senior Center
20769 Lorain Road,
Fairview Park, OH 44126
(440) 356-4439


Recreation Center
The Gemini Center
21225 Loarain Road
Fairview Park, OH 44126
(440) 356-4444